BURIAL HEX (USA), ORP (A)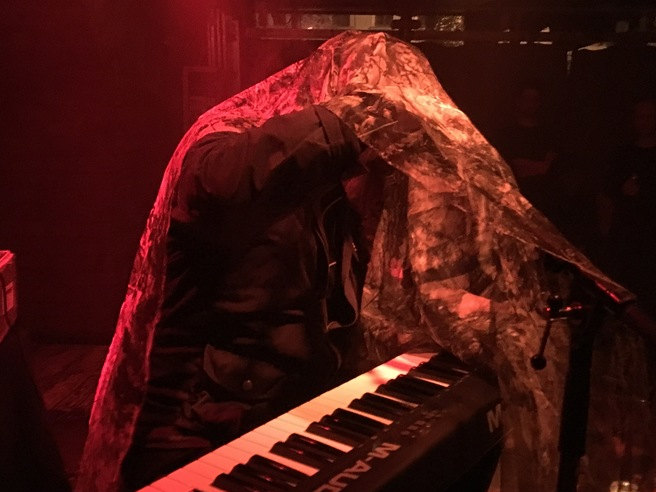 BURIAL HEX (USA), ORP (A)
KULTURRAUM SPITZER
Taborstraße 10
1020 Wien, Austria
Burial Hex
So close to the end that we can see the beginning...
Symbolist musical dowsing, since 2005. Led by composer and producer Clay Ruby, Burial Hex has pioneered an eclectic and romantic style of Post-Industrial music, originally coining the term "Horror Electronics" to describe what has since become totally unique.
In the past 18 years they have developed well past the progressive bounds of their own style, incorporating everything from Campfire Black Metal, Ritual Ambient, Native American Songscape, Medieval Minnesanger, Death Industrial, and much more.
Burial Hex live performances are often more whimsical than the studio workings, typically featuring performance art theaterics of a ceremonial nature. The instrumentation is electro-acoustic, with vocals and acoustic instruments being pushed to the boundaries of natural distortion.
Burial Hex is prone to leaving plenty of room for being inspired by the local landscape of each performance, incorporating improvisation in collaboration with the Spirits of Place and local Elementals, though they are not beyond pulling out classics from their discography like "Storm Clouds" and "Go Crystal Tears" or doing unusual cover songs and even from the Classical repertoire - previous tours even had moments of Gregorian Chant and some Erik Satie piano works woven into the fray.
As always, it will be a decadent, animistic Theatre of Cruelty, each encounter with Burial Hex is very personal, immersive and unpredictable.
Orp
Orp wurde im Februar 2017 von Horst Prillinger und Michael O'Rourke anfangs als Ambient-Duo gegründet, aber das Interesse der Musiker verschob sich in den darauffolgenden Jahren mehr und mehr in Richtung Experimental/Drone.
Die Tracks des Duos basieren alle auf klanglichen Konzepten und Themen, werden aber bei jedem Auftritt bzw. jeder Aufnahme neu improvisiert. Es entstehen Klanglandschaften, die manchmal zart und fragil, manchmal dicht und massiv, manchmal harmonisch und manchmal maschinenhaft-atonal sind.
Horst Prillinger - Elektrische Gitarre
Michael O'Rourke - Elektrisches Cello, Muurni Khuur
updated: 04.09.2023